arenal rafting, The Highlight of Your Vacation in
La Fortuna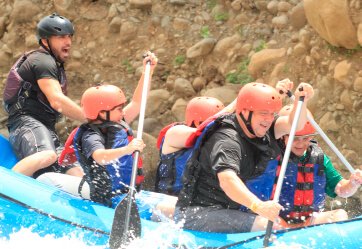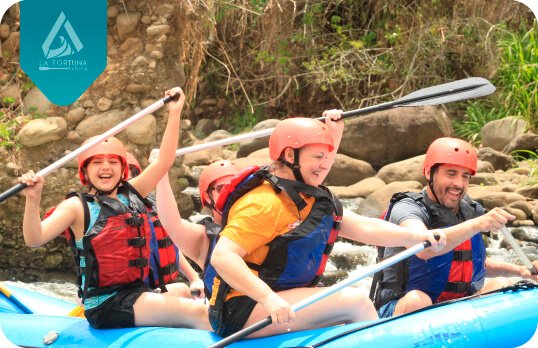 A Half-Day Arenal Rafting Tour
Immerse yourself in the exhilarating waters of Costa Rica with our half-day, arenal rafting Tour featuring thrilling class II & III rapids. Experience the rush of white-water rafting with inclusive equipment, expert instruction, a comprehensive safety briefing, and culminate the adventure with a delectable lunch within a Private Natural Reserve. Explore the best Rafting tour in Costa Rica and Arenal Volcano area – an unforgettable adventure awaits!

Wildlife in their Natural Setting
Top of Class ll and lll White Waters

Ideal for Families and Group of Friends
If you seek an exhilarating river rafting adventure, our white-water rafting Class III & IV tour is an excellent choice. Navigate through almost continuous white water for an extreme experience. Discover top-notch Rafting in Costa Rica and La Fortuna with our thrilling rafting tours.
Rafting La Fortuna - Class III & IV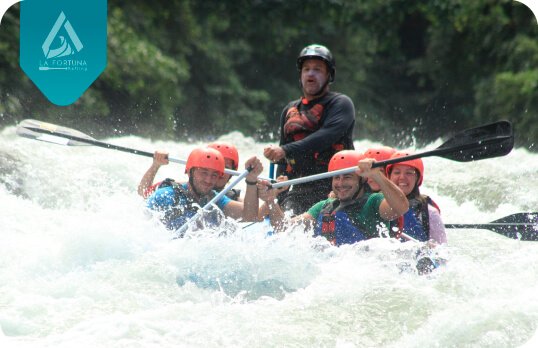 Arenal Rafting Company Near LaFortuna
Our arenal rafting tour In Arenal will be the highlight of your family vacation!
Discover the thrill of rafting, one of Costa Rica's most exciting water activities. If you're heading to La Fortuna, make rafting a priority among your top things to do in Costa Rica. No prior experience is needed for this La Fortuna white-water rafting tour. Ensure ample time for enjoyment during your Costa Rica vacation with the best river rafting near La Fortuna, perfectly complementing the most popular tours in Arenal. Rafting is ideal for family groups, offering a kid-friendly experience in La Fortuna.
We Dont Just Care About Rafting Tours
WE CARE ABOUT YOU

More Than 1500 Happy Clients
Certified Local Guides

Specialists in Private Tours
Customized Adventures:
Private Rafting Tours
La Fortuna Rafting Company stands out as a premier choice
Understanding that each adventurer has unique preferences, La Fortuna Rafting offers private rafting tours tailored to individual needs. Whether you desire an exclusive family experience or a team-building corporate event, our team is dedicated to crafting a personalized adventure that exceeds your expectations.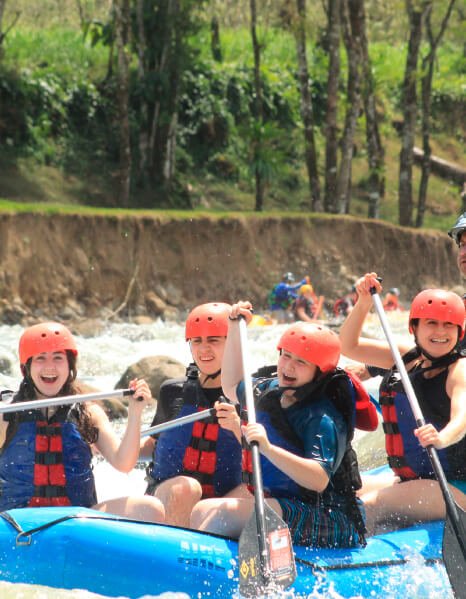 Let us Help You Set up Your Rafting Day Trip
La Fortuna Rafting is your go-to for a memorable adventure in La Fortuna. We can offer you the best experience of Arenal with our location in this tropical paradise, enjoy one of the top-rated rivers in Costa Rica for rafting tours.
White water rafting is one of most popular and safest activities for travelers. The bilingual guides are very well familiar with the routes & they already know where you can have the fun and safe adventure at the same time.
Combine this activity with one of the coolest tours in Arenal such as ATV Tour around the Arenal Volcano, waterfall rappelling or with the best hot springs in LaFortuna. You can have so much fun. Let us help you write a memorable holiday adventure in our Country.
Recomendations From Our Clients

Ready to turn your adventure dreams into reality?
Submit your queries now! Whether you have questions about our tours or need personalized recommendations, our team is here to assist. Fill out the form below, and let the journey begin. Start your exploration with us – your gateway to unforgettable experiences awaits!